Welcome to my life's passions...artwork and gardening.


Spending time outdoors is essential to my well-being, as is the making of art. Observing nature and absorbing my surroundings as I sit in one spot for hours while drawing and painting connects me to the moment, the space, and the vision. I am interested in the light, the forms and the colors in both the broad abstract and also in the details that I can see and sense. The solid watercolor crayons that I use in painting are a simple, yet versatile and direct way to apply color to paper. I enjoy the tactile quality of the wax, which I can apply directly in a dense layer, scratch into with textural, expressive lines, or dilute with water for blending and softness. Portable and simple to use, they are perfect for my style of 'en plein air' painting.


GARDENING
I began gardening in the NH/Maine seacoast area in 1979 as manager of the Wild Iris Herb Farm, a retail nursery where perennials were grown and dug to order directly from the gardens. I now garden at the homes of private clients, primarily taking care of their flowers and shrubs. This site will serve as a photo display area for recording and sharing the gardens that I manage.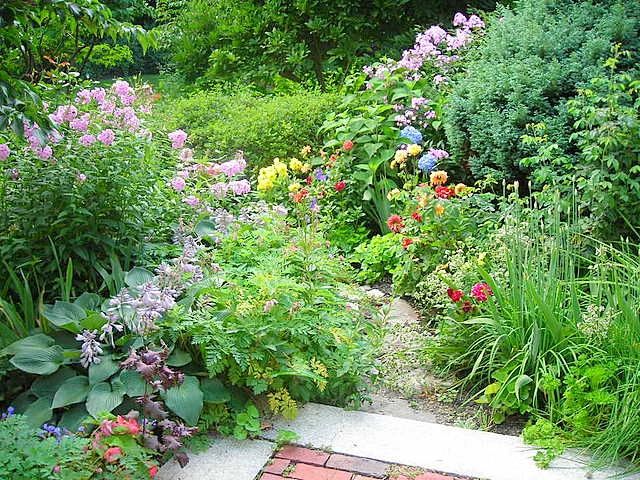 GARDENING
At client's homes I attend to the designing, planting, care and maintenance though out the entire gardening season along with some holiday decorating in winter. Typically I will clean in spring, design new beds, chose and plant the potted and in-ground annuals, tend perennial beds and maintain shrubs and established areas. Clean-up in fall does not include major removal of leaves. The gardens range from in-town residences to large oceanfront estates. In most cases I am responsible for all planted areas with the exception of the lawn and trees. I have long-term relationships with most clients, some of which have continued since about 1992.
I always attempt to maintain gardens in the manner and style which suits the individual client. However, my own personality and preferences do always seem to eventually manifest themselves. I have strong feelings about using plants that are disease and pest/animal resistant. On-site composting and avoiding wasteful or unnecessary purchases are also strong priorities for me.


Mostly, I prefer to let the landscape and environment dictate the garden choices, going 'with the flow' rather than against it. This means choosing plants that fit the garden as it exists rather than attempting to fight forces like lack of water or herds of deer.
Ultimately, I strive to fulfil the vision each client has of their garden. But I also hope to suprise them with something they weren't expecting that enhances and enlivens the original concept.